space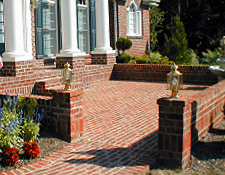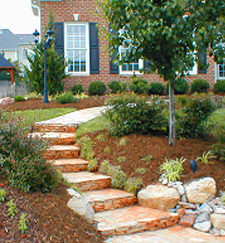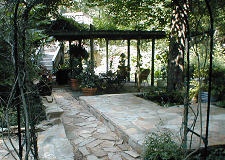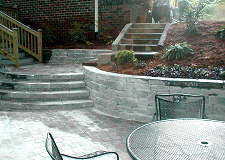 Versalok retaining wall and Cambridge pavers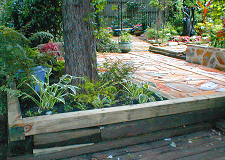 A combination of wood and stone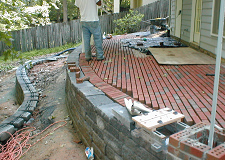 Versalok and brick under construction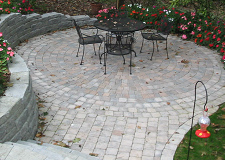 Cambridge circular patio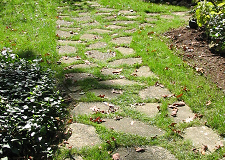 Recycled concrete set as stone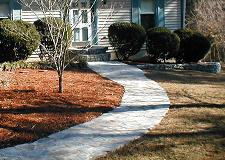 Natural stone in mortar
space
Define your outdoor living space with patios, walks and walls. These hardscape features can be constructed of a variety of materials that vary widely in cost and durability. Here's a look at some of the more popular choices:
Brick
For that warm colonial look your material of choice is brick. Brick is available in huge selections of colors and textures. Generally, two sizes are available: modular, to be finished in mortar so the finished size per brick is 4"x8". The second size is actually 4"x 8" and is set mortarless (for walks and patios). For an equivalent square footage, brick is the most expensive because there are more small pieces and more labor overall. In general, a brick wall will run between $70 and $80 per square foot and a brick patio will cost between $15 and $50 square foot depending entirely upon whether it is mortared or dry-set, curvalinear or straight, or has a complex or simple pattern.
Stone
Nothing bridges the home to the landscape better than stone. It is available in wide selection of colors, sizes and textures. It lends itself well to curvilinear forms and can be set "dry" or mortared in. An example of a popular application is dry-stack garden walls where thin stone, roughly 8x8 inches but in irregular cuts is laid flat to form the wall. The wall appears loose or dry but is actually bonded from behind with an application of mortar. The top layers are sealed with mortar or construction adhesive. The finished look is reminiscent of a cottage garden. Use the same stone selection in larger sizes for a garden patio. Connect the patio with stone walks to deck areas or garden paths. Another look for a stone retaining wall is stone applied as veneer to a base construction of concrete block. This is a good choice when you want a larger stone look to match a veneer application on your home or have a larger (3' or higher) retaining wall. Achieve a look of higher relief in your patios by screeding brick chips or stone screenings between the larger stone instead of mortar. This is one way to reduce cost and is suitable for walkways as well. Or try just setting the stone directly in the sod; the effect is great for preserving as much of green as possible yet still providing a hard surface for walking or entertaining.
Pre-Cast Concrete
The term cast concrete brings to mind large sections of pre-stressed concrete used in bridge construction. But it can also mean concrete pavers or 'engineered' stone. Early products looked rather unappealing, but new offerings have the appearance of natural hewn stone or cobblestone. Special patterns are available, such as circle kits, and the product can even be bought distressed to enhance the natural look.
One popular retaining wall is provided by Versalok. Stones are produced in four different sizes and can be laid in a pattern that rivals stone in appearance. But the real virtue of these systems is that they are pre-engineered to withstand the stress imposed by a holding back a large embankment and can be built as high as ten feet. The paver systems for patios and walks provide a matching texture and look and are durable and relatively care free. Because they are mortarless systems, weed seed can fall between the cracks in the pavers, but round-up and a hosing should keep that down.
Wood
Treated wood provides the least expensive solution for retaining walls and walks, but it also the least durable. Expect to replace wood retaining walls in 15-20 years. The cost per square foot is roughly $14.
A drawback to wood is that you are generally limited to straight walls and edges. This can be somewhat restrictive in the landscape design and sense of flow. But where the budget is the overriding concern, treated wood can provide a quick and least-cost solution and provides a natural textured look and feel.
space